Semi-trucks crisscross the country constantly. There is hardly a road you don't see them on. So, why not use all that mobile space for advertisements? It is like a huge billboard that drives around promoting your product everywhere. With that thought in mind, many companies have started plastering their names and logos on the sides of trucks. However, some companies want to really stand out. Here are some great examples of creative truck ads that will leave you gaping in amazement!
Coca-Cola – This ad for Coca-Cola Zero is really unusual. Instead of just the name or logo, they designed the truck to look as if the bottle was floating in a giant ice cube. Very cool.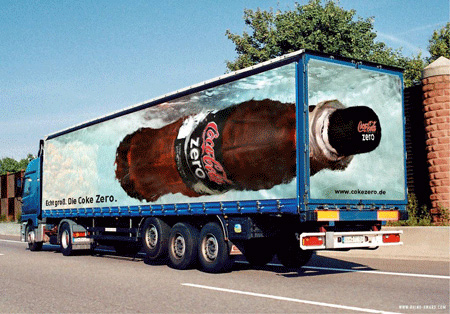 Mazda – This add for Mazda cars is playing on the whole Batman franchise. Making the car hang upside down? Inspired.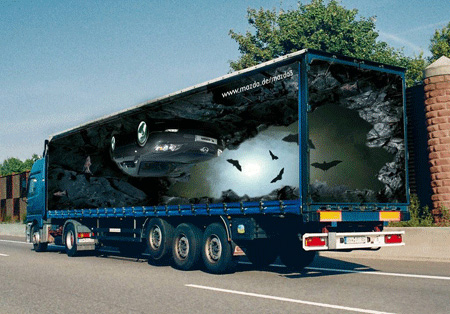 Universal Studios –We have all seen the typical movie poster, but have you ever thought about what is going on behind it? These people obviously have, and it is very amusing!
Pepsi – Talk about turning things on their heads! This truck has everything topsy-turvy and that is exactly what makes it stand out and be memorable.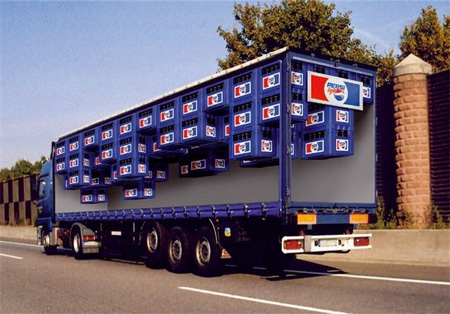 Pringles – Pringles new hot and spicy flavor is apparently very hot. So hot it burnt out the truck! Great and amusing idea.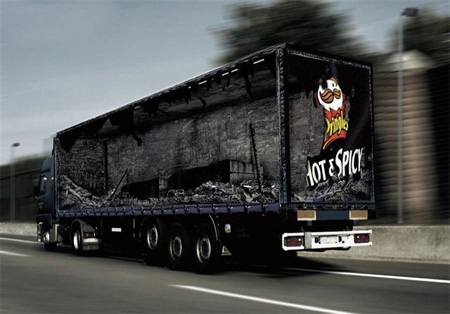 Golf – Golf may be the sport of gentlemen, but I think these men are taking it a bit too seriously! I love the danger sign. So funny!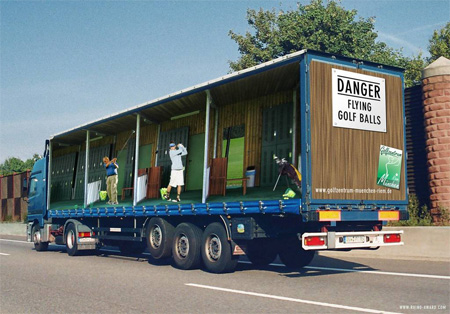 Hot Wheels – The tiny toy car company believes in packing tightly! A truck within a truck, within a truck… Good idea.
Jamo – Extra-large speakers make for an extra-large impact. Great product advertisement for this audio company!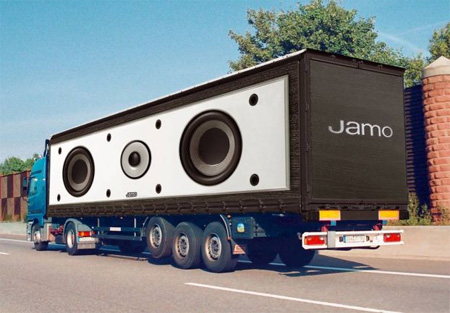 Kit Kat and Mars – I'm getting hungry already. I love the cross section idea. A great way to show what is really inside those delicious candy bars!
Wrigley's Chewing Gum – The same idea as the candy bars, only this time you peel away the wrapper to see the silver pieces of aluminum-wrapped gum.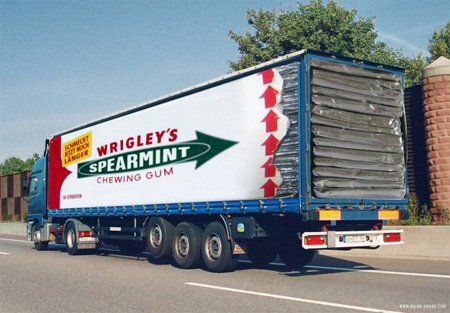 Whiskas – What has cats climbing the walls? Whiskas cat food and treats of course! A great idea to have the 'cat burglars' trying to get in the back!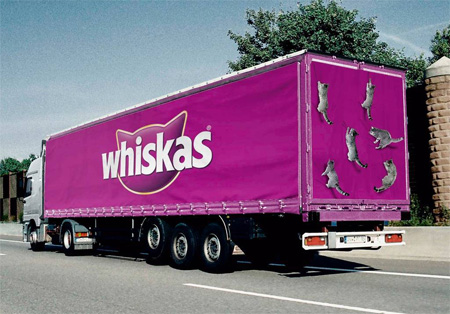 These creative and often funny truck advertisements give you gust a few ideas of what great ads can accomplish. I know they have inspired me to see what I can come up with that is new and different!
Ken Myers (1 Posts)
Ken Myers is the founder of http://www.longhornleads.com/ & has learned over the years the importance of focusing on what the customer is looking for and literally serving it to them. He doesn't try to create a need, instead he tries to satisfy the existing demand for information on products and services.